PATRICK PETERSON
NEWS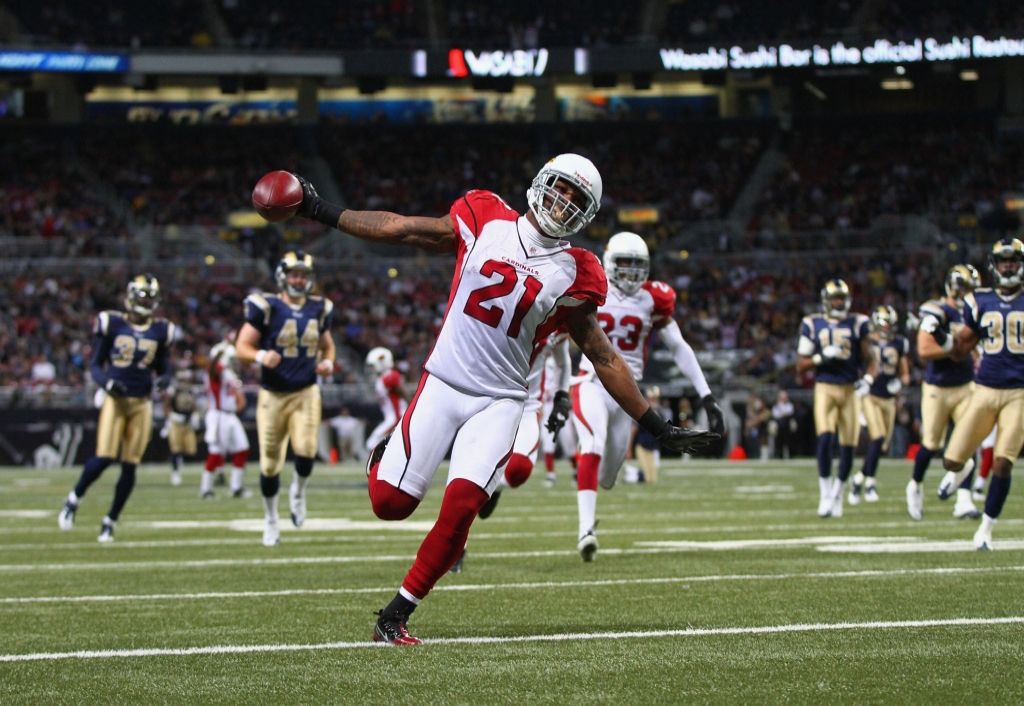 Patrick Peterson Wins Battle With Dez Bryant
POSTED BY: PATRICK PETERSON in NEWS
ARLINGTON, Texas – Earlier this week, Patrick Peterson admitted his season wasn't going as planned. After signing a contract extension during training camp which made him the highest-paid cornerback in the NFL, there had been too many plays in which Peterson didn't look like the shutdown corner he was getting paid to be. He vowed that would change beginning with Dallas, and by game's end he proved it. Cowboys star wideout Dez Bryant was held without a catch until the final drive, when he hauled in a pair of passes for 15 yards and a touchdown after the outcome had already been decided. "I feel that I am back to my old form," Peterson said. "Like I said, my season started over this week. It's going to get nothing but better each and every week. Put all this criticism to bed, all this talking about, 'Oh, he's overrated. He can't do this, he can't do that.' That's not going to be it any more. I promise you that." The Cowboys had backup quarterback Brandon Weeden at the helm as Tony Romo sat with an injured back, but regardless, Peterson did an impressive job covering Bryant. While he and Antonio Cromartie have spent most of the season staying on their side of the field, in this one Peterson tracked Bryant wherever he went. "He just erased him for most of the game," coach Bruce Arians said. Peterson was called for two penalties, an early pass interference and then an illegal hands to the face for 20 total yards. He disagreed with the second call. "I thought it was a bang-bang play," Peterson said. "Both of us fighting at the line of scrimmage. Then what really got me, he threw the flag 15 minutes late, after we were walking off the field. Then he decides to throw the flag. At the end of the day, if you're going to call it right then and there, call it fair. I thought it wasn't a fair call, but at the end of the day, the ref made the call and we're moving on."
BETHEL WITH ANOTHER BLOCKED KICK
After slipping on the Cowboys' first field goal attempt of the game in the first quarter, special teams ace Justin Bethel just wanted another chance. When Dallas tried a second one from 35 yards out on the last play of the first half, he didn't waste it. Bethel screamed around the edge and blocked the third field goal of his career on the play, keeping the Cardinals' lead at 14-10 heading into intermission. It was the team's 18th blocked field goal since 2008, eight more than its nearest competition, Seattle. "I was like, 'If they go kick it again, I'm going to block it,'" Bethel said. "I've been waiting for my big play to happen. It's Week 9, so I've really been waiting." The ball ricocheted into the waiting hands of Peterson, who immediately took off down the left sideline. He tried to cut inside to get around the last guy to beat, Cowboys tight end Jason Witten, but was wrapped up 19 yards short of the end zone. Although it did look like Witten had the angle on him, Peterson's teammates weren't giving him any slack. "They're definitely giving me a ton of grief by being caught by Jason Witten and the kicker," Peterson said. "But when they see it on film, I had some room but I didn't have enough room to make something happen. As soon as the ball was blocked, those (Cowboys) took off running because they knew somebody was going to get their hands on the ball and possibly score. So they had a headstart on me. But it's all good. We came out with the 'W.' That's all that matters."
JARON BROWN CAPITALIZES ON HIS CHANCE
Twice this season, wide receiver Jaron Brown had a step on the defense for a touchdown, and both times he was overthrown. When he got his end zone shot in the second quarter, Brown wasn't about to let it slip away. Quarterback Carson Palmer found him from 11 yards out for the go-ahead touchdown. Brown drew a pass interference penalty on the play and still held on to the ball. "Carson made a great throw, so I really had to catch this one," Brown said.
GRICE GETS FIRST ACTION

Running back Marion Grice had his first NFL carries as the backup to Andre Ellington. He finished with five rushes for 12 yards and scored from one yard out with 4:20 remaining to put the game away. He saw one snap last week on special teams but was given a bigger role following a calf injury to running back Stepfan Taylor. Grice will likely continue to see playing time while Taylor recovers. Fourth-string running back Kerwynn Williams was elevated from the practice squad to the active roster on Saturday but did not play on offense.
Source: 
By Kyle Odegard | azcardinals.com |November 2, 2014 
http://www.azcardinals.com/news-and-events/article-2/Patrick-Peterson-Wins-Battle-With-Dez-Bryant/dca2b1d9-7501-4128-9b62-413197bf8260