PATRICK PETERSON
NEWS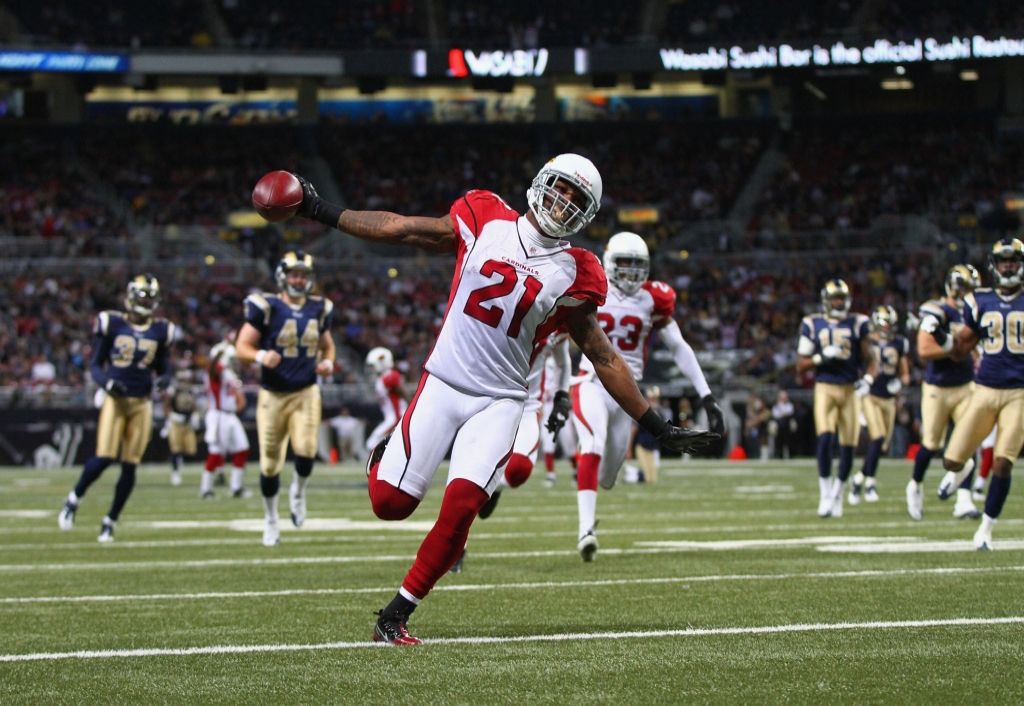 Cardinals Secondary Can Compete With Seahawks "Legion of Boom"
POSTED BY: PATRICK PETERSON in NEWS
There's no question that the NFL is now a passing league. Gone are the days of running backs consistently having 30+ carries a game. Last season, the Seattle Seahawks won the Super Bowl because of their dominating secondary. Although the "Legion of Boom" lost some depth with the departure of Walter Thurmond III, the secondary will still be stacked with Richard Sherman, Earl Thomas, Kam Chancellor and Bryon Maxwell. What three secondaries made the most improvements over the offseason and can compete with the "Legion of Boom" for the top secondary in the league this season?

3. Arizona Cardinals




Safeties- Tyrann Mathieu, Rashad Johnson, Deone Buchanan, Tony Jefferson, Curtis Taylor

Corners- Patrick Peterson, Antonio Cromartie, Jerraud Powers, Justin Bethel

There's no denying that Patrick Peterson is an elite corner in this league, but he may actually be the best corner in the game right now (Richard Sherman may not agree.) The former LSU Tiger has started in every game of his NFL career (48), and has career numbers of 151 tackles, 12 interceptions, and 43 pass deflections.

The Cardinals pass defense was terrific last season. The unit finished with 20 interceptions (tied third) and held opposing quarterbacks to a 58.7 percent completion percentage (seventh). The corner opposite of Peterson will be reliable veteran Antonio Cromartie. The past three seasons, the former New York Jet has started 48 games and has recorded ten interceptions and 118 tackles. Cromartie, who had an interception in the Cardinals first preseason game against the Houston Texans, and Patrick Peterson have the chance to be the best cornerback duo in the league this season.


After one season, former third round pick Tyrann "Honeybadger" Mathieu has seemed like a risk that has greatly paid off for the Cardinals. In 11 starts last season, Mathieu recorded 68 tackles, two interceptions, and nine pass deflections. The best thing about the Honeybadger is his versatility. No matter where he is on the field, Mathieu can make plays. Whether it's at corner, safety or special teams, Mathieu is a difference-maker who will help this team win games. The addition of first-round pick Deone Bucannon makes this a very scary secondary. The 6-1 211 pound safety loves contact and has terrific hands. As a senior at Washington State, Bucannon recorded 114 tackles and six interceptions. Although Bucannon has looked good in camp, former Oklahoma Sooner Tony Jefferson will likely be the week one starter. After going undrafted in 2013, Jefferson had a solid season last year, and has played very well in training camp.




No matter who starts alongside Mathieu at safety, this secondary will be very good. The Cardinals have the youth and talent to lead the league in interceptions this season. This unit may not be the deepest in the league, but the core of Peterson, Mathieu, and Bucannon will terrorize quarterbacks for years to come.
By | Paul Amico